You know how sometimes you want to do allll the things but then you end up doing none of the things but also some new things that you never even thought of?
That's been my year so far. Not an excuse for droppin' off the blogosphere, but when life takes you on a rollercoaster ride, might as well lean in to the loop-de-loops (arm flailing and stomach dropping notwithstanding). It's been two spontaneous seasons: spring in Copenhagen & summer in San Francisco, and I wouldn't have it any other way. Because wherever you go, it's all about the people. It's always about the people.
That said:
Tammy & James
, I have no words and too many words for y'all so I'll just leave my love.
Jennifer
, thanks for providing a home and your sweet company that very first weekend.
Justin & Ayan
, y'all two of my favorite people ever. Thanks for changing my life JB.
Takiyah & Brian
, thanks for the practices in listening and empathy.
Kevin, Cam, Eza, Jimmy, Anson, Nanette
,
Henry
, y'all are so special. Keep crushin' it.
Ang & Cindy
, #hoyagirlsforever.
Stefano, Fernando, & Daniel
, thanks for being the warmest & chillest Brazilian roomies ever.
Henry
, 谢谢你帮我找自己的道路.
And now to v hopefully smoothly connect it all with a recipe post, one of my last discoveries of SF happened at dinner with my dear friend Cindy. Somewhere in our soul searching conversations we deemed
Mr. Gary D. Chapman's theory
inconclusive. He forgot the 6th & 7th love languages: food & wine.
This was the first meal I made when I got back to DC and my beloved personal kitchen (joy! honor! privilege! wahh!). I'm a fan of the componentized dishes that mark New Nordic and/or creative cuisine menus. In fact, one of my favorite desserts of all time is christened
pomegranate, pistachio, coconut, mint
.
Deconstructed compositions encourage exploration. They treat you with a burst of delight and a linger of satisfaction. I hereby present pinterest-friendly: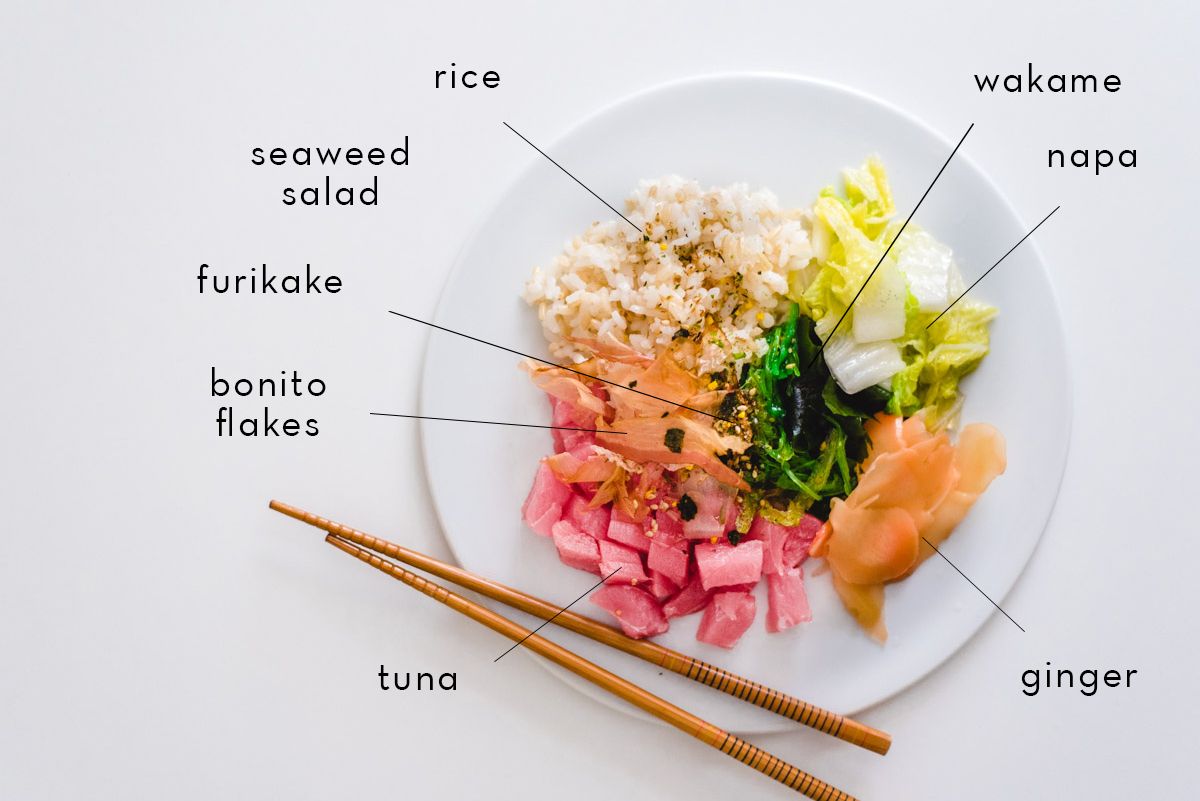 tuna, seaweed, napa
furikake, ginger, bonito
Ingredients
Note: Your local Asian supermarket should stock all of these. The seasonings and toppings go well with pretty much anything so don't worry about never using them again.
ahi tuna, fresh
seaweed salad
napa cabbage
mixed brown & white rice, cooked
Compose
Cook the rice (preferably in a rice cooker but stovetop works too) at least 30 min before you're ready to eat. Unless you want to risk being hangry cause you forgot to cook your rice. Or use day old rice - room temp is fine since this dish is mostly raw.
Let the wakame soak and expand in water for ~10 min.
Chop the tuna into small cubes.
Stir fry up some napa. You can leave this out if you want to go all raw, but I love me my cooked veggies.
Assemble!