There's something about bread that inspires me to contemplate the greater things of life. Or it might just be that bread-making is so happy-making which leads to a content mind of mine prone to thought-pondering.
Anyhow, growing up both a maker of things and a bridger of the Asian-American intercultural dynamic is no easy feat. Kicking and screaming notwithstanding, I'm thankful for all the lessons my mom signed me up for, from piano to ping pong (no kidding, summer of third grade). Little did I know then that my opportunity to even take lessons and practice discipline was privilege itself + I now see that all the childhood exposure I had to creative pursuits had a huge role in my future development, so thanks ma.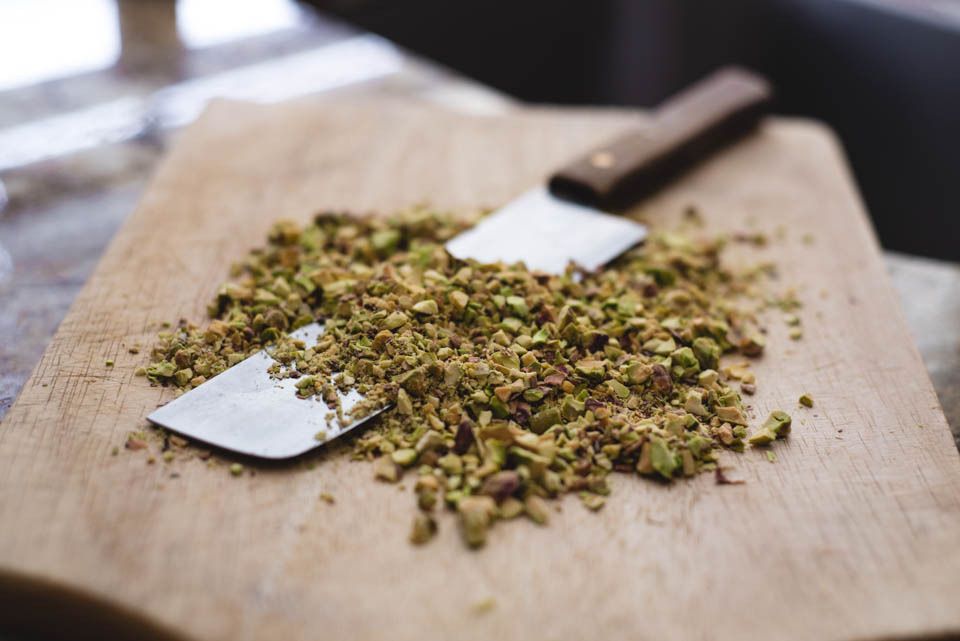 However, there exist still many cross-cultural elements I'm left to navigate by myself. Like the most beloved - foooood!! Since older generations usually have a rough time adjusting their palates to American tastes, my baked good offerings to holiday Asian-party-dinner-potlucks never received much love. Year after year, my cupcakes and cookies were relegated to kids corner status.
But this year, that was all going to change.
Look at me now; I'm a big kid.
Which got me to thinking about what a
big kid
young adult & Asian palate-friendly dessert looked like. Given our pantry's inexhaustible supply of nuts and seeds, those were both a yes. Carbs? That's what the C stands for in our genetic bases. Sugary sweetness? Eh, not so much. Breath-taking aesthetics? A vicksquisite condition.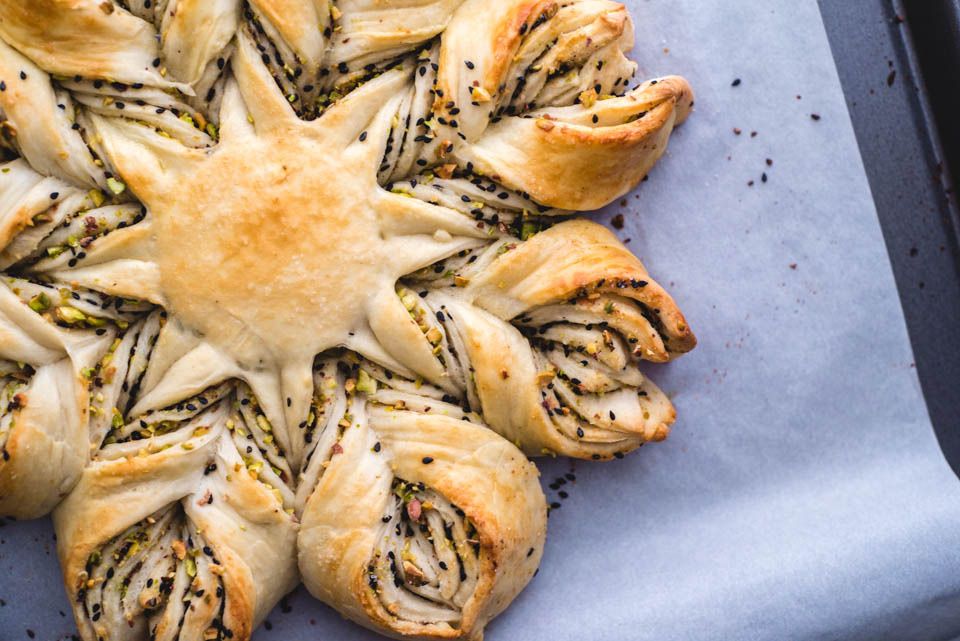 Thus the black sesame, pistachio, and honey star pull-apart bread was born on New Year Eve's morn. It has a slightly nutty and subtly sweet flavor - perfect as a universally pleasing light appetizer or dessert. If you ever needed a way to impress the Asian parents or the in-laws, here it is in all blazing star shaped glory. And no worries - it's also deceptively simple to put together...but that can be our little secret.
Adapted from Food 52
Dough
3/4 cup + 3 tbsp whole milk
2 3/4 cups all-purpose flour
1/4 cup unsalted butter, softened
2 1/4 tsp active dry yeast (1 packet)
1/4 tsp sugar
1 tsp salt
Filling
3 tbsp butter, melted
6-8 tbsp honey (flexible, I recommend at least enough to fully cover each layer)
1/2 cup pistachios, chopped
3 tbsp black sesame seeds
3 tsp cinnamon (optional)
Egg Wash
1 egg
Pinch of sugar

1. Preheat oven to 400 degrees F. Microwave milk for 40 seconds and pour in yeast. Let sit for 10 minutes to activate (get puffy).
2. Combine dough ingredients and knead until you have a soft, smooth ball of dough.
3. Let dough rise in a covered bowl (damp towel or plastic wrap) for an hour, until the size has doubled.
4. Divide dough into 4 sections and roll out each piece into a 10'' circle.
5. Lay out a circle atop a parchment lined baking pan, brush with melted butter, and cover the surface with a light layer of honey. I used ~1-2 tbsp per dough layer, but feel free to adjust based on how sweet you want it (mine was pretty bland - I'd suggest more).
6. Sprinkle 1/3 of the pistachios and black sesame (+ cinnamon if desired - I forgot when I made this, but I think it'd add some nice depth to the flavor).
7. Place second dough circle on top of the first, and top. Repeat with third dough circle, and place fourth on top.
8. Place a ~2 in rim glass or jar in the middle of the top circle of dough (don't push down). Use a sharp knife to cut 16 equal slices outwards from jar to the edge of the circles.
9. Take 2 strips of dough and twist them away from each other, making one full twist on each slice. Repeat around the circle until you have 8 pairs. Squeeze each pair together so it forms a point.
10. Brush with egg and sprinkle sugar on top.
11. Bake for 18-22 minutes or until light golden brown.

Note: Best served warm, so keep heated in the oven at 200 degrees if needed.