Just a heads up: there's a lot goin' on here. But in a good way, like a bright-and-bubbly-new-brunch-in-town sort of way.
Embassy Row Hotel
in Dupont Circle has recently undergone a major renovation and rebranding, and if they're targeting who I think they're targeting (aka people like me and likely you reading this), they done did good.
The restaurant,
Station Kitchen & Cocktails
, boasts a clean interior with art deco-esque furnishings and warm, modern accents. Considering I usually don't think of hotel restaurants when planning meals out, the efforts to differentiate Station Kitchen are impressive. The mini-mart of local artisan goods adjacent to the cafe is also a nice touch.
Staying true to its ties with hospitality, service was a strength here. From the bartender to the manager to our server to the cook (whew, what a mouthful), natural conversation and regular checkups ensured we felt welcome the entire duration of our meal.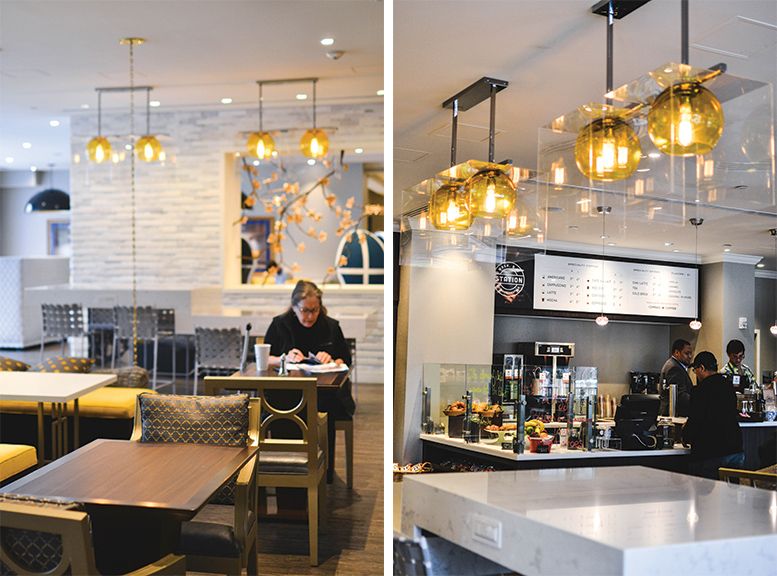 How could you say no to a face like that? Major thanks to the people who so warmly served us.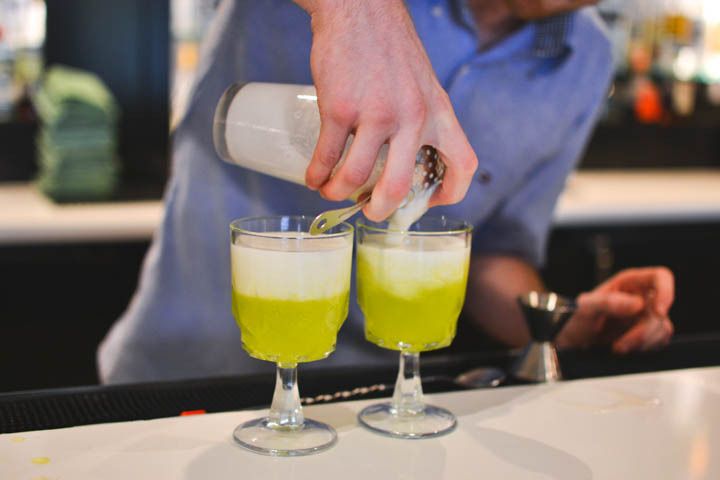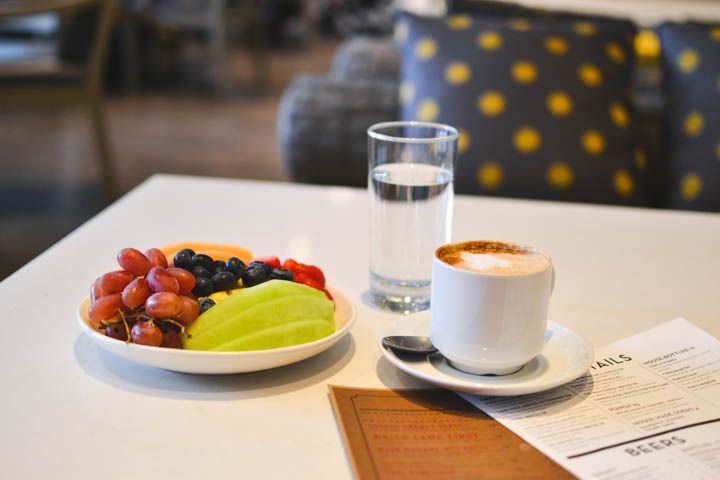 The fruit plate? Très bien. The portion was a hearty size and each component oh-so-ripe - perfect for refreshing your palate in between savory entree bites. (Extra holla at the sweet & juicy pineapple).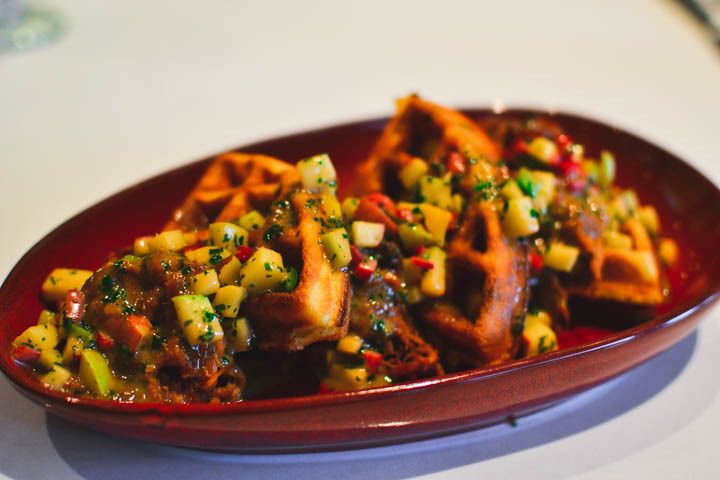 The
Pork & Waffles
with smoky pulled pork, corn bread waffles, and stewed apples: the real stunner of the show. The waffle crispiness endured the test of my extended picture-taking time, and the apple and pork topping was packed rich with savory-sweet flavor. I also appreciated the solid topping-to-waffle ratio - they definitely don't skimp on the meat here.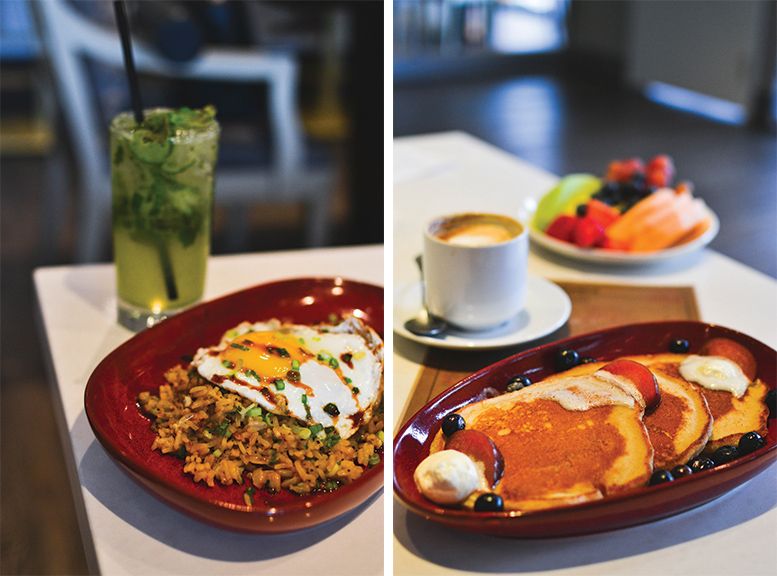 Left is the
Fried Rice
with an egg sunny side up and spicy honey hoisin and right is the
Chai Pancakes
with earl grey poached plums and chantily cream. Though moderately innovative in theory, both were slightly lackluster in execution.
Anything including rice, scallions, and a subtly sweet flavor is a winner in my book, but the fried rice was a bit on the oily side for me (and thus the rice grains didn't hold very well together). Then again, if your palate hasn't been raised on Shanghainese father-homestyle fried rice, this paired with the ultiamte brunch protein is still a safe bet.
Truth be told, I should have tried the pancakes first. I really couldn't discern any hints of chai or earl grey after the savory umami of the fried rice took over my taste buds. The texture was fine - fluffy with crisp edges, but overall just your standard pancakes.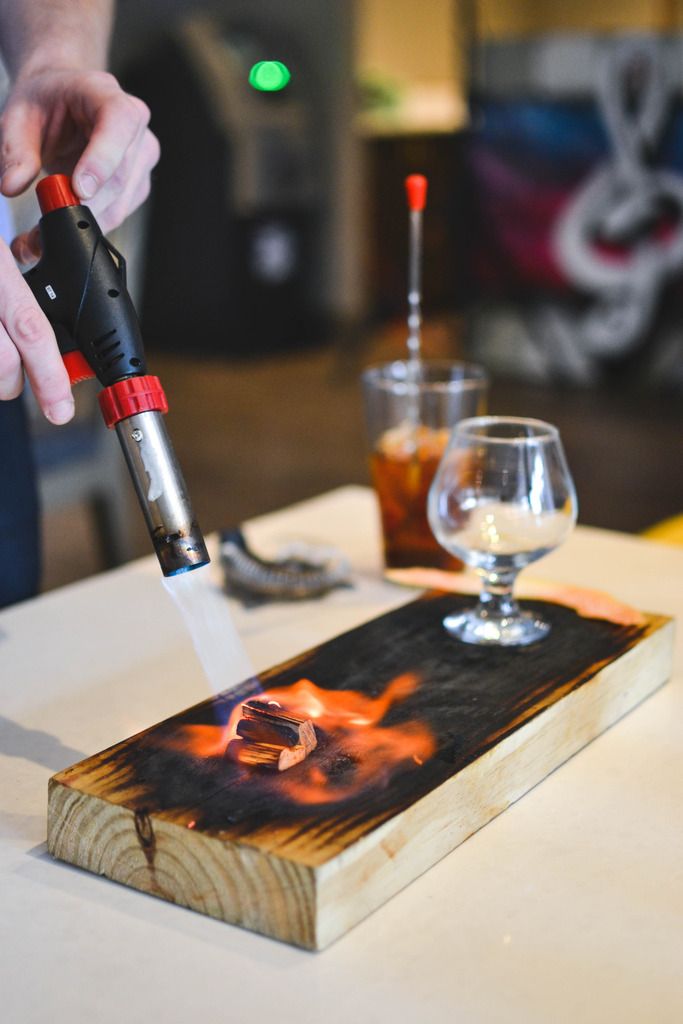 Helloooo, presentation! These were to sooth our stomachs after the monster of our meal, and indeed, the dry smokiness was much appreciated.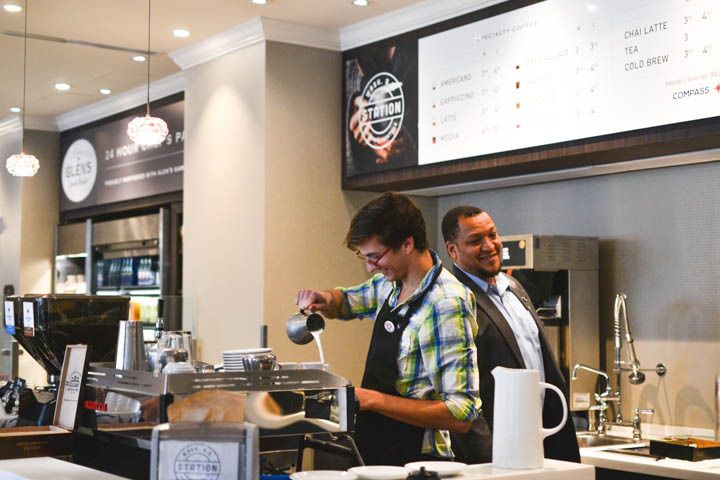 Smiles all around here, served with a side of
Compass Coffee
yes please!
Taking it one more step, this was real good service and real cute decor. Food execution varied more across the spectrum, but with a
menu
curated in a simple New-American twist, it holds promise. Drinks also followed the creative trend. All in all, Station Kitchen successfully captures the essence of a fun and cheery brunch outing - if the food isn't a highlight, at least the experience and the people happily carry your stomach through. Thanks Station Kitchen!
Station Kitchen & Cocktails
Embassy Row Hotel
2015 Massachusetts Ave. N.W.
Washington, D.C. 20036