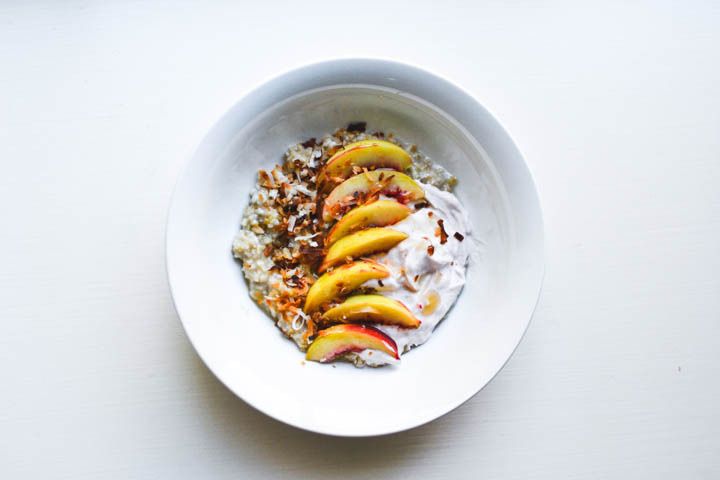 Though the end of peach season is fast approaching (crey), I'm going to embrace my glass-half-full side and see it as a time for new beginnings - aka this gem of a
summer withdrawal
seasonal transition breakfast.
Sooo we all know that if: fall, then: oatmeal. Ever since experiencing the bliss that is
Grød
(a porridge shop in Copenhagen), I've gone to town playing around with sweet and savory oatmeal variations with creative topping combinations.
Skyr is Icelandic yogurt - a bit like greek yogurt but thicker and less sweet. I assumed it wouldn't be too accessible upon returning to the States, but my fears were allayed upon discovering skyr actually manifest in the flesh in American grocery stores (Safeway, Whole Foods, & Market Street all carry
Siggi's
!). Anyhow, it has a pretty light flavor which makes it perfect as a base (or complement) for other toppings. I love pairing it a spectrum of textures especially as seen here: hearty + nutty steel cut oatmeal, soft + juicy peaches, and crisp + toasted coconut flakes.
INGREDIENTS
Steel cut oats
1-2 ripe peaches, local if possible (aka farmers market!!)
Skyr or greek yogurt
Coconut flakes, sweetened or unsweetened
Honey
1. Cook yer oats - remember these are steel cut so they take a bit longer. Boil water, pour the oats in, let it return to a boil, and then turn it down to a simmer for 15-20 minutes (adding water as necessary if too much evaporates during the process). I don't really have a ratio of water to oats - honestly, pouring it in by eyeing it works just fine, and you can always add more oats/water if needed.
2. Toast coconut flakes on stovetop or toaster oven - watch them cause they burn real easy.
3. Top cooked oatmeal with sliced peaches, coconut, skyr, and a drizzle of honey.