Adapting to a foreign land is no walk in the park, but when you find something that connects you with where you came from…it gets that much easier. Not that China's coffee culture is anything like America's, but at least my last week of free time gave me a chance to fall back into my element.
So what do you get when you put together a girl insecure no more about her Chinese literacy skills (thank you internship), the interwebs, and the best city in China?
An overcaffeinated Vicks. And a Shanghai coffee + cafe guide.
(Also, I'm reorganizing my
travel section
- it's now structured as a list of travel guides for eating/shopping/playing/seeing in cities of the world that I have traversed to. I figured I might as well post up my
obsessive
extensive exploration habits for all to see. Such excitement!!)
---
MELLOWER COFFEE
麦隆咖啡 - 卢湾区新天地济南路8号(太仓路) || Xintiandi district
Sleek and chic - they've got design down. You'll pay a pretty penny, but the creativity here is well worth it: try a cloud of cotton candy raining down on an Americano or a hand torched cappuccino brulee. Rest assured they take their beans seriously too (feel free to peek into the in-house roasting room): check out the single origin espresso + cappuccino set plated in beautiful simplicity.
THE BEAST CAFE
野兽咖啡 - 卢湾区新天地南里(兴业路1号01b,04单元) || Xintiandi district
Directly located in 新天地 (Xintiandi) - Shanghai's ultrahip, ultramodern East-meets-West fusion district, Beast fits in perfectly amongst its surrounding upscale dining and retail counterparts. Elegant detailing in both decor and beverage vessels make this a must-visit; you'll leave wanting to take home not only the authentic French tea bags but also the artsy marbled tea mugs. (They also retail Kinfolk here, but I'd bring your own unless you're cool with reading straight 100% Chinese.)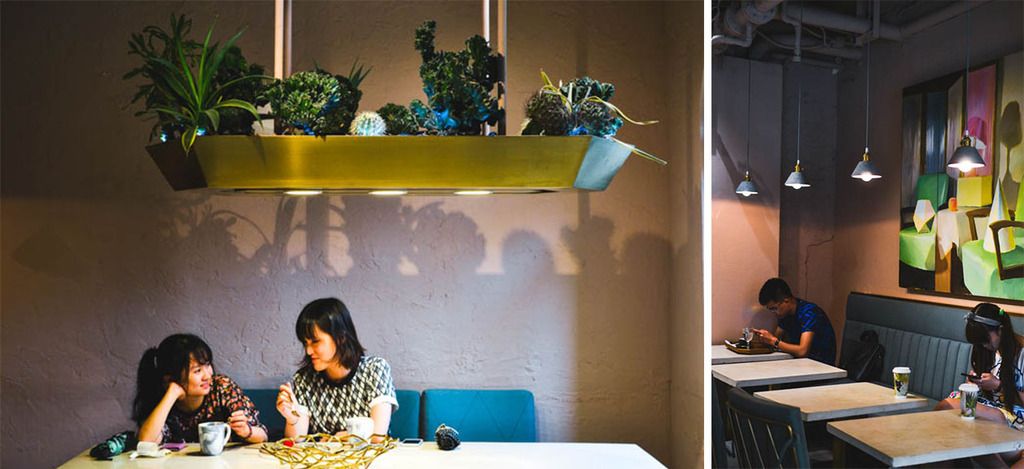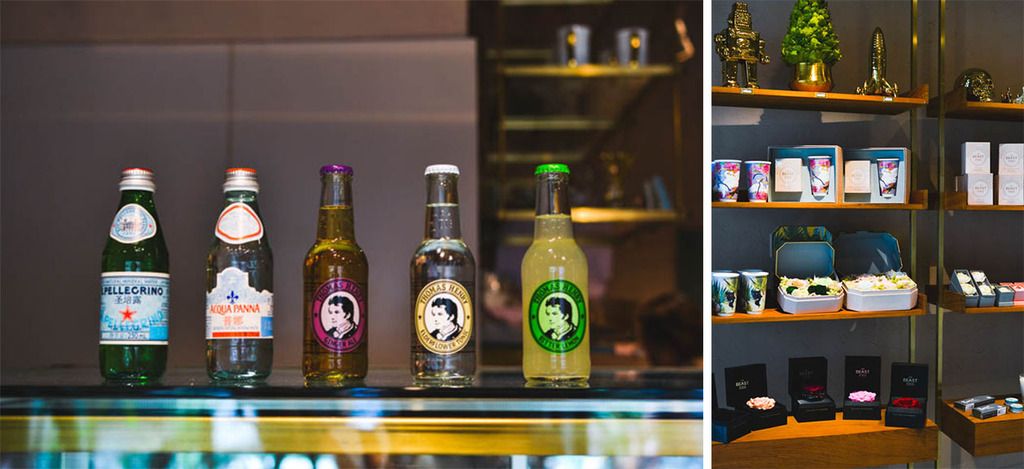 ---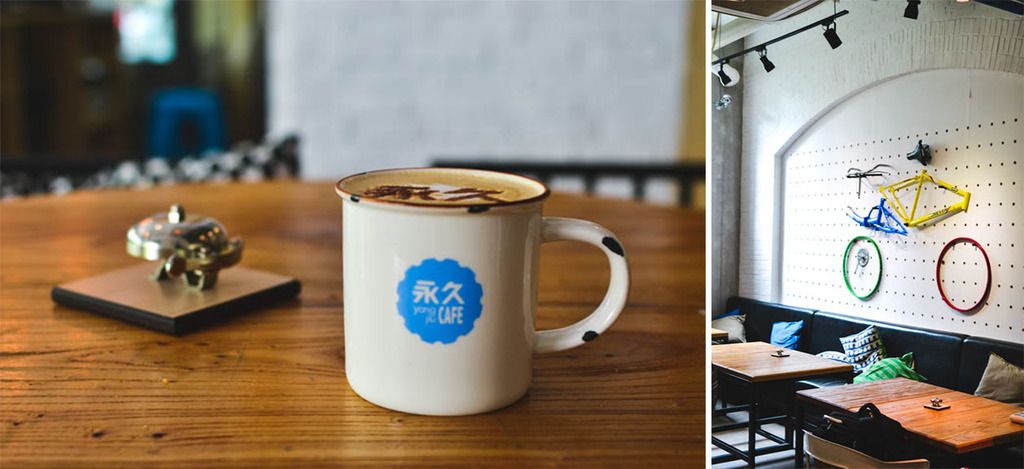 YONGJIU CAFE
永久咖啡 - 上海浦东新区兰花路235号(近银霄路、新国际博览中心1号入口) || Pudong area

Though most of the bounty is west of the Huangpu river, Yongjiu is worth a stop if you're in the Pudong area (east of the river). Don't come looking for fancy single origin pour overs, but the bicycle themed interior and handwritten chalkboard menu make this an endearing little outpost - oh, and the bikes are for sale too.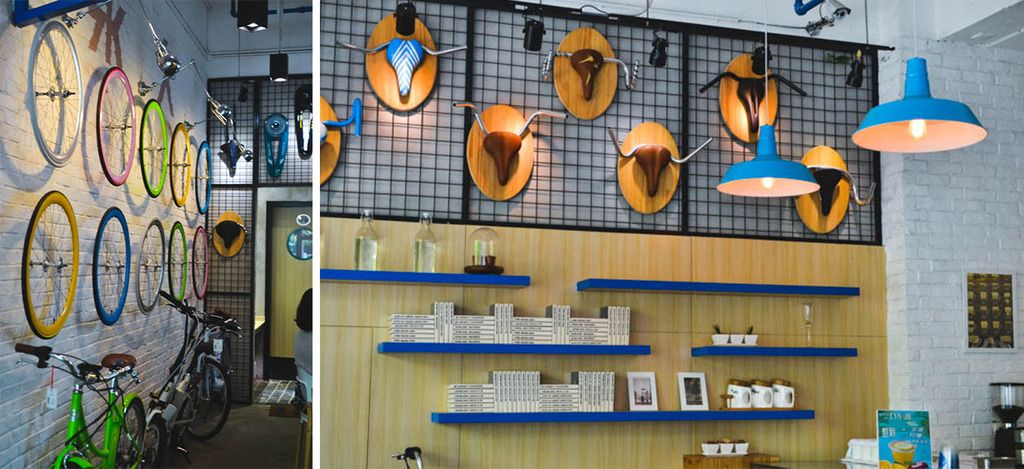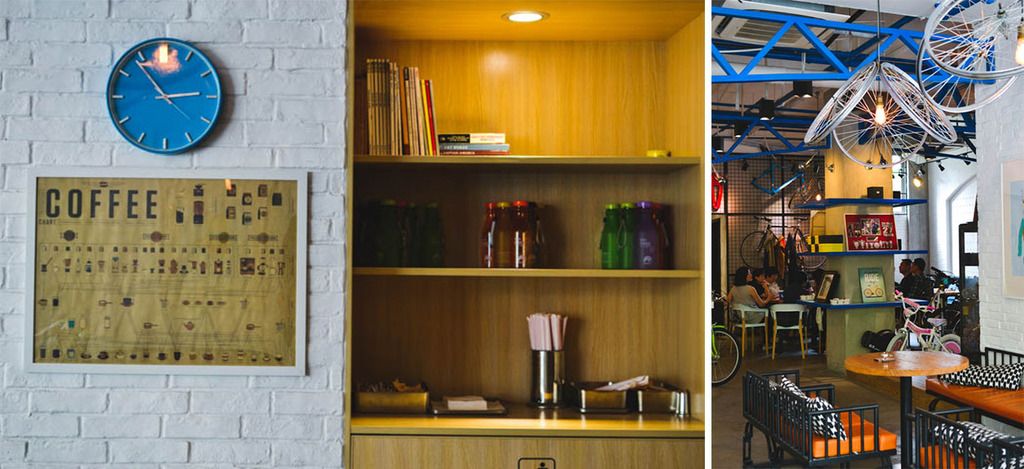 SEESAW COFFEE

A native of Shanghai, Seesaw has several shops up and running in the city, boasting of their dedication to promoting the art of coffee to the area. Unfortunately for me the location I planned on trying out (in the 21st Century Minsheng Art Museum) was closed the day I went, so I could only console myself with its pretty.
---
ADDITIONAL RECOMMENDATIONS
明谦咖啡 Mingqian Coffee
|| Jingan district
Lanna Coffee
(Beans sourced from 云南) || Jingan district ||
http://www.lannacoffee.cn/
Sumerian Coffee
(American expat owned) || Jingan district ||
http://sumeriancoffee.com/
树洞咖啡 Let's Coffee
漫猫咖啡 Maancat Coffee
(Starbucks-esque chain + a lotta cat decor) ||
http://www.manmaokafei.com/