I know it's legit when my mother enthusiastically approves of something I make that comes out from the oven. (I say enthusiastically because she technically approves of most things I bake...but yunno, they're not always the wisest choices to my health-conscious mother. Love ya too, Mom!)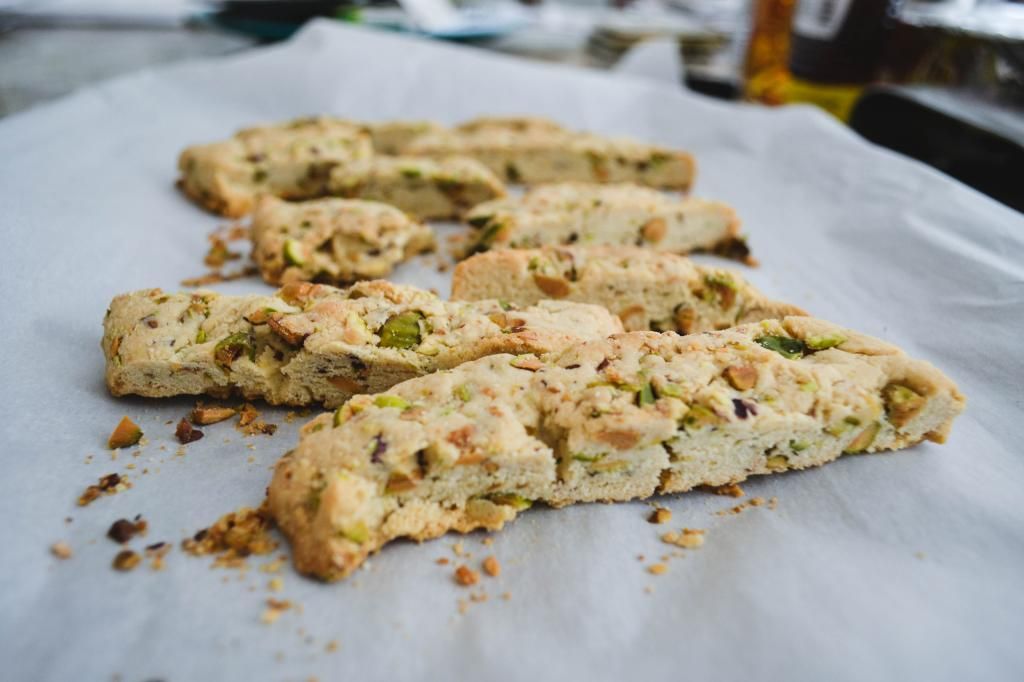 I'm still kicking myself in the foot for forgetting to add in the grapefruit rinds, but 'twill definitely happen next time (read: once I get out of a community kitchen). And hopefully I'll also have some melted white chocolate on hand for dipping or drizzling. Or maybe also some cranberries or dried cherries (oh the possibilities).
But what I loved about these was that the pistachio and vanilla alone were still enough to give it pronounced flavor, and the texture was perrrrrfect! Not rock hard, but solid enough to break off and
sufficiently smooth for easy chewing.
Recipe adapted from: Food.com
Ingredients
3 cups all-purpose flour
1 ½ teaspoons baking powder
¼ teaspoon salt
3 large eggs
1 cup sugar
½
cup vegetable oil
1 teaspoon vanilla extract
½ teaspoon grated grapefruit, rind of
1 cup shelled pistachios, chopped (or almonds)
½ cup dried cranberries or cherries
White chocolate chips (for dipping)
1. Preheat oven to 325 degrees.
2. Combine flour, baking powder and salt in a medium bowl.
3. Whisk eggs, sugar, butter, oil, vanilla extract and citrus fruit peel in a large bowl.
4. Gradually stir in dry ingredients and then nuts.
5. Form dough into a rectangular log (or two) on prepared pan lined with parchment paper.
6. Bake 30 minutes or until edges are lightly browned.
7. Cool for 10 min (leave oven on), and use a serrated knife to cut log into diagonal slices of biscotti.
9. Bake until bottoms turn golden - about 10-12 minutes. Turn cookies over and bake 10-12 minutes more (or until desired hardness).