International, national, regional, and local - the whole geographical spectrum of foodie experiences awaited us at Beijing! Though our stay was short, it was quite the whirlwind tour and definitely veryyyy (ful)filling.
International
First up, the breakfast buffet at the hotel likeomgsogloriousicannoteven. These pictures barely encompass like a third of the bounty.
Anyhow, I would say our hotel generally adhered to international standards (aka was pretty Westernized), so breakfast was usually my most Western meal of the day whilst in Beijing.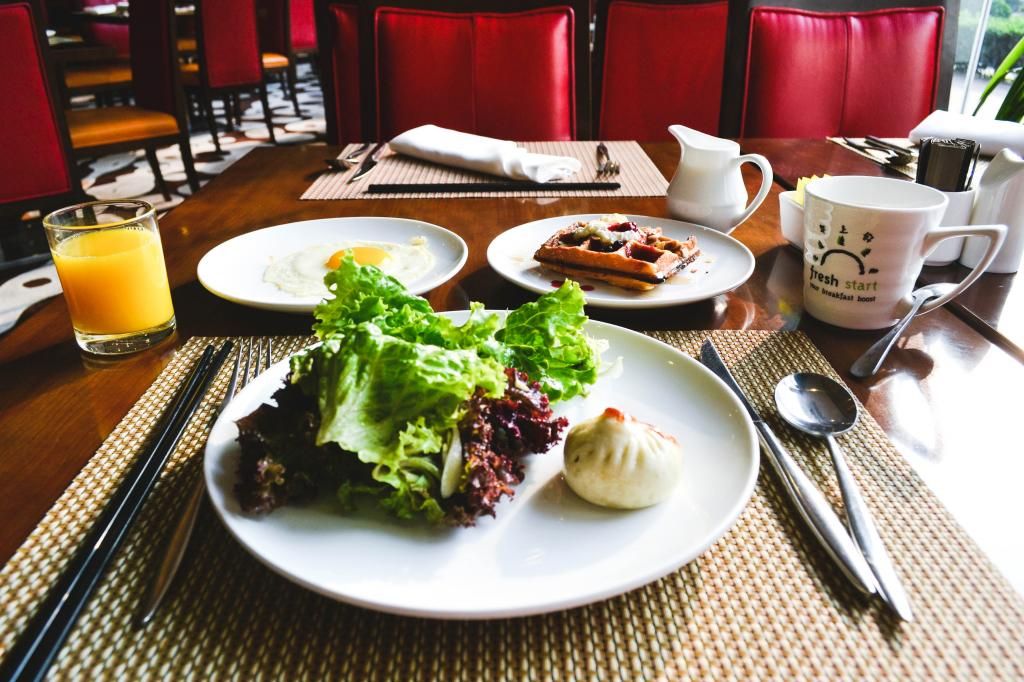 And a dirty little secret about me: I've never been a big green tea fan...but this green tea doughnut was w o w game-changer. The Chinese also deep fry their pastries a little differently from the way we do it in America (highly recommend the fried apple pies at Chinese McDonald's seriously 'murica should take notes), which always brings a refreshing twist on my beloved carbs.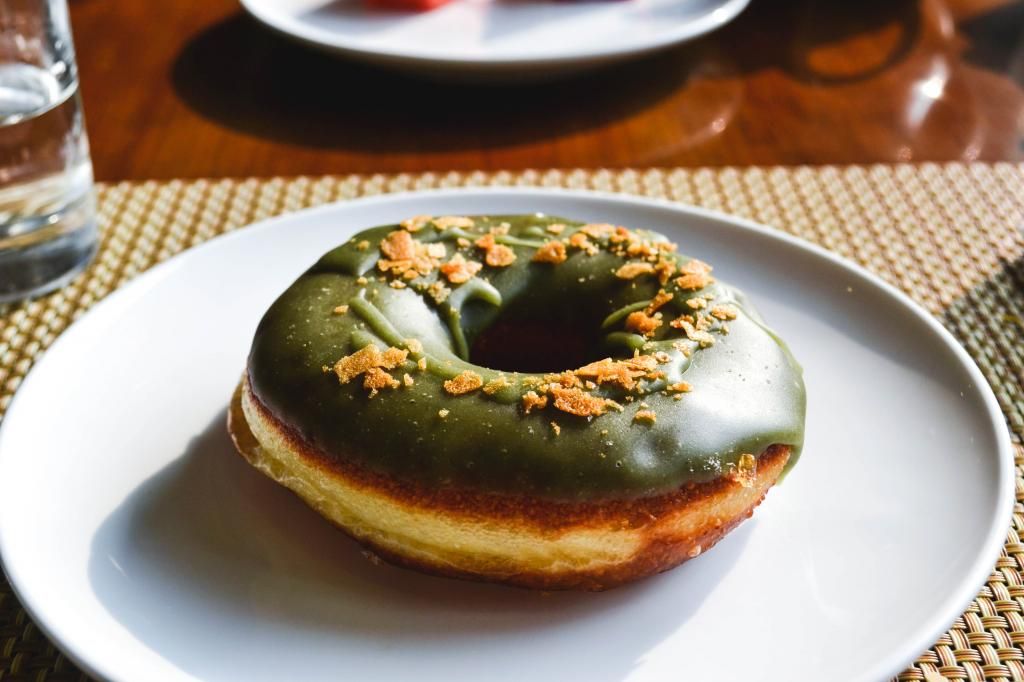 Warm morning porridge complete with a toppings bar - I usually alternated between plain, red bean, and green bean.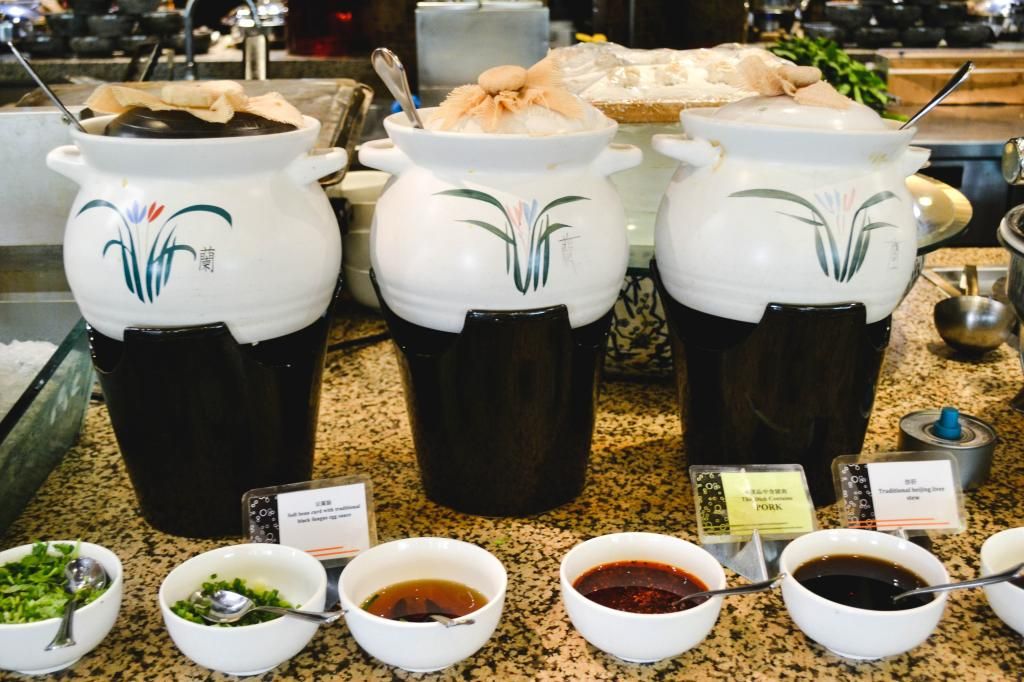 It's always a struggle trying to figure out what's inside all the different steamed bun varieties. I usually resort to guess and check (yunno, just applying my high school geometry lessons).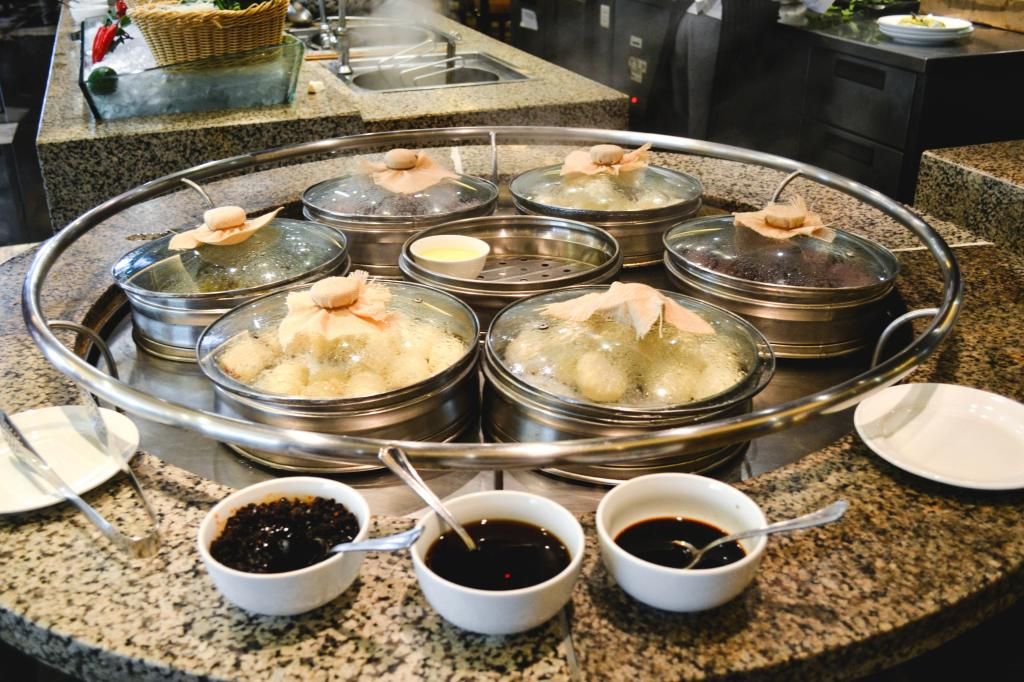 Eggs, bacon, french toast...quite the aesthetic relief from the school cafeteria.
So I also discovered coconut rice and I am officially in lurv (left plate in picture below). The coconut flavor is pretty subtle, and there are literally tens of toppings to choose from - I topped mine with egg strips, 肉松 / rousong (
meat wool?
), dried fish strips, and scallions.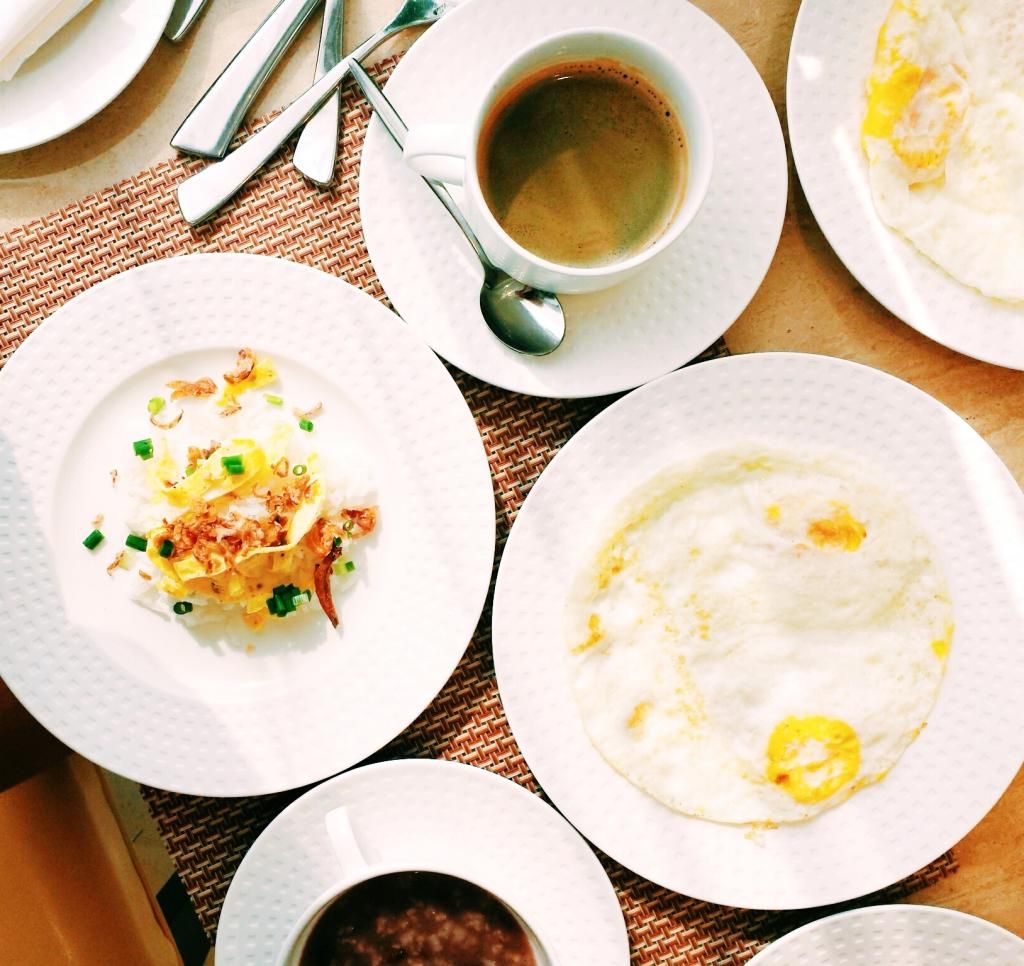 Local/Nati
onal -
全聚德 (QuanJuDe Restaurant)
And what would a trip to Beijing be without 北京烤鸭 (Peking Roast Duck) at Beijing's trademark roast duck restaurant?
The placemat presentations and food styling are always so impressive, as are the various body parts of duck they manage to make look effortlessly gourmet. (I can't even remember half the things I ate, but you probably would rather me not go into detail, so you're welcome lol.)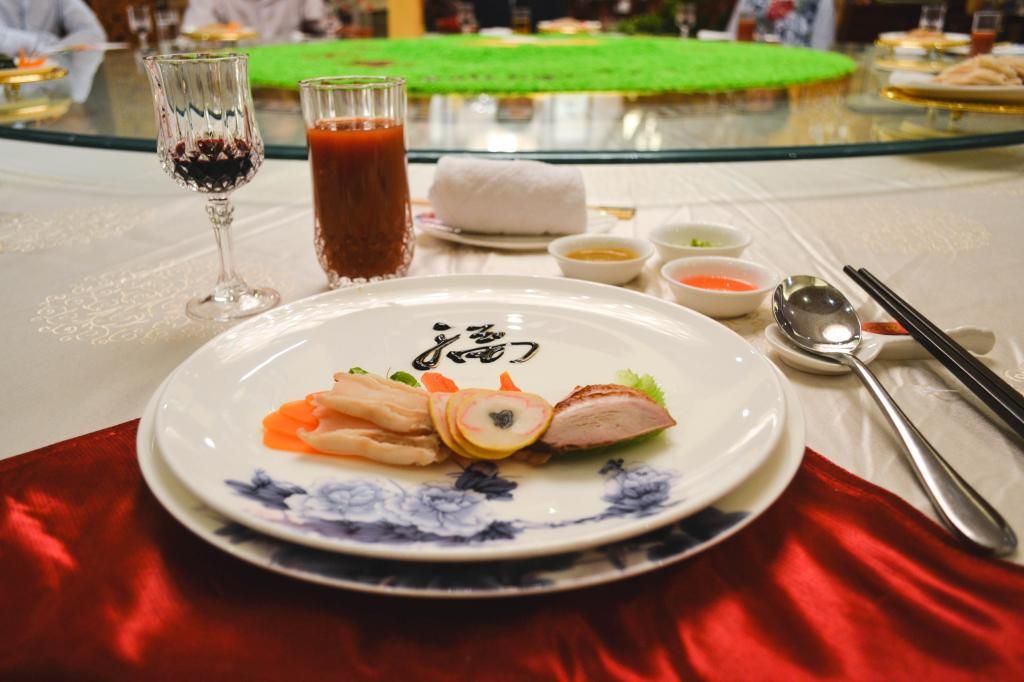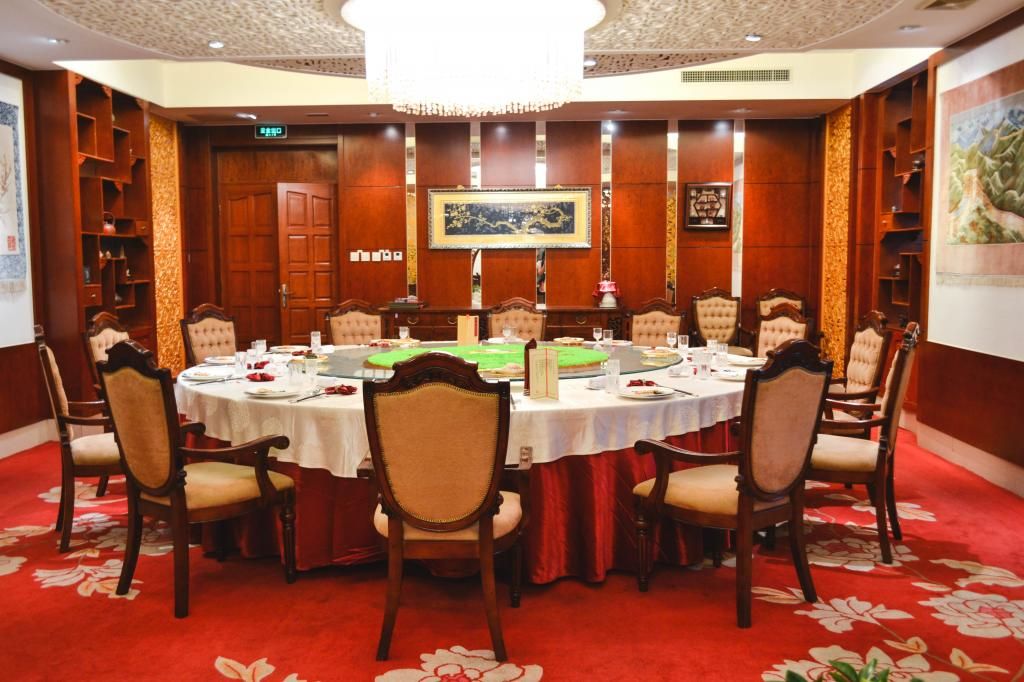 A duck-cutting chef comes out to each table for an up-close demonstration. I bet they're used to all the picture taking by now. #noshame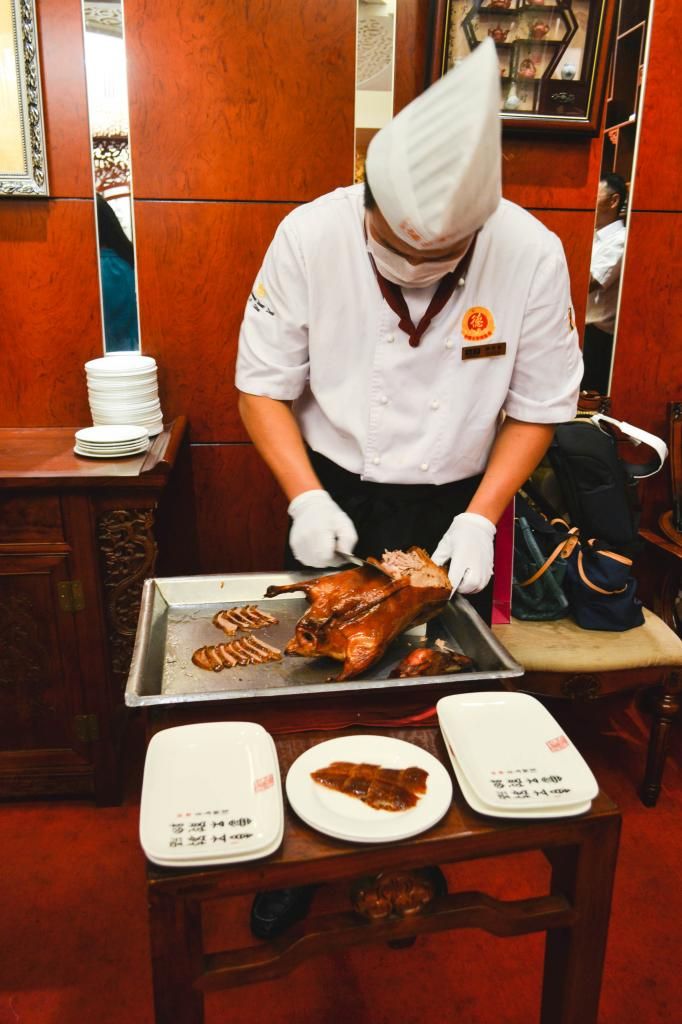 Thinly sliced duck, cucumber (I think?) spring onions, special duck sauce (sorry don't know the actual name), and delicate wraps - seemingly nonrelated foods, yet together merge into awesomeness.
It's so cute!! You roll it up like a burrito...er, a classy and delicate one.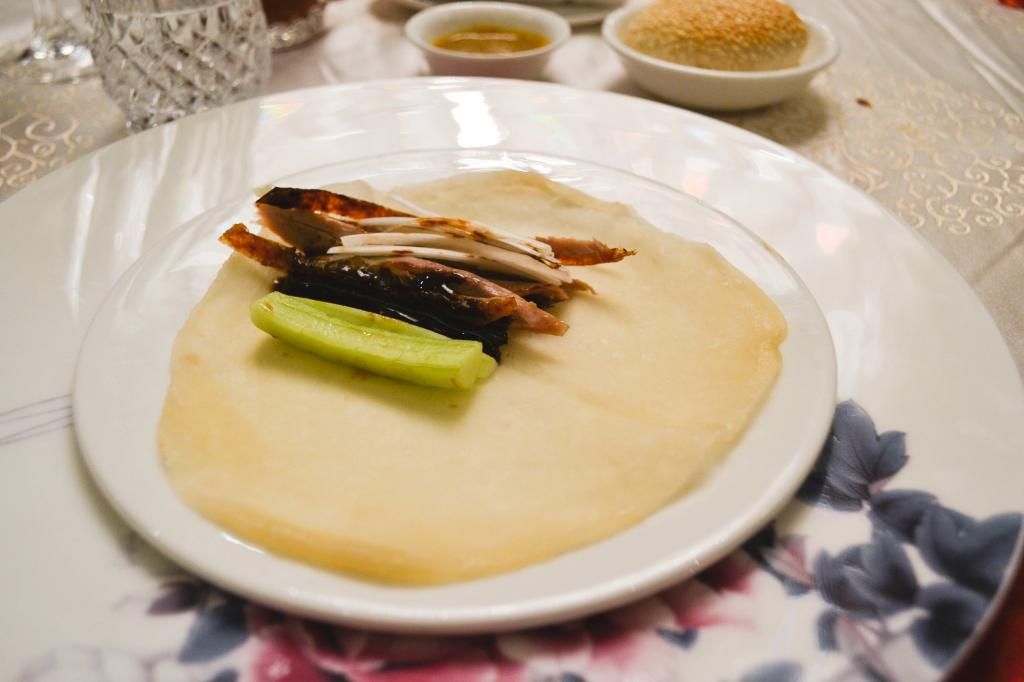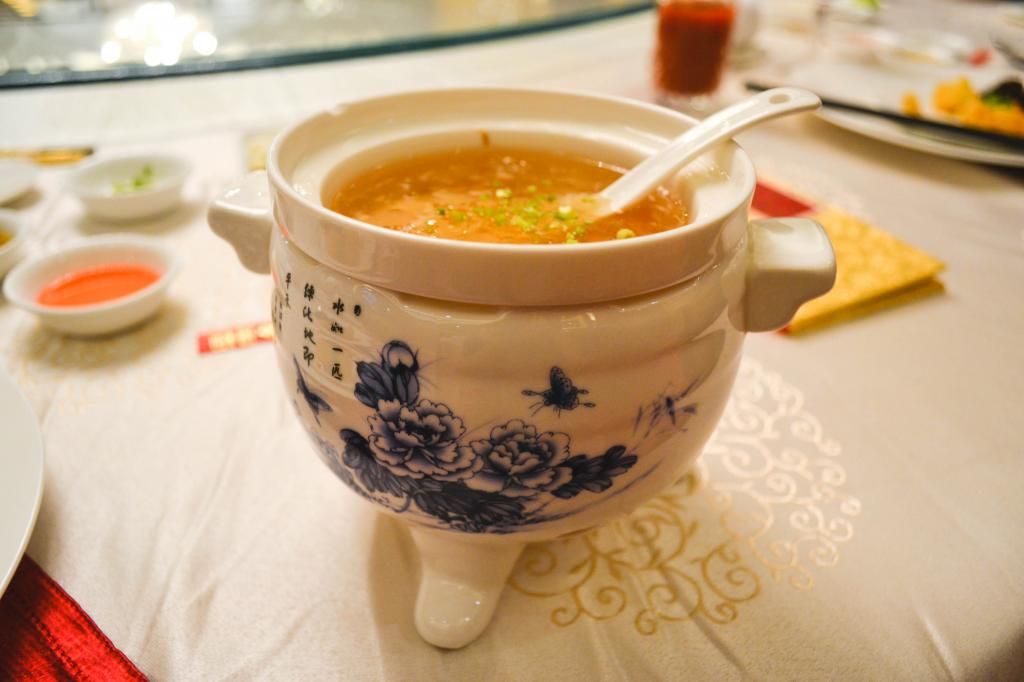 Honestly speaking, I would say QuanJuDe is more for the experience. Not that the food isn't good, but you don't really walk out praising the restaurant in the name of a heartily full stomach. Though they do get extra creativity points for converting essentially the whole duck into edible format.
Regional
Lunch at the hotel! And my sister going in for the kill a couple pictures down haha.
I really like northern Chinese style food - it's not as heavy as southern style tends to be, yet it's still just as satisfying. Plus it's so preeeeetty.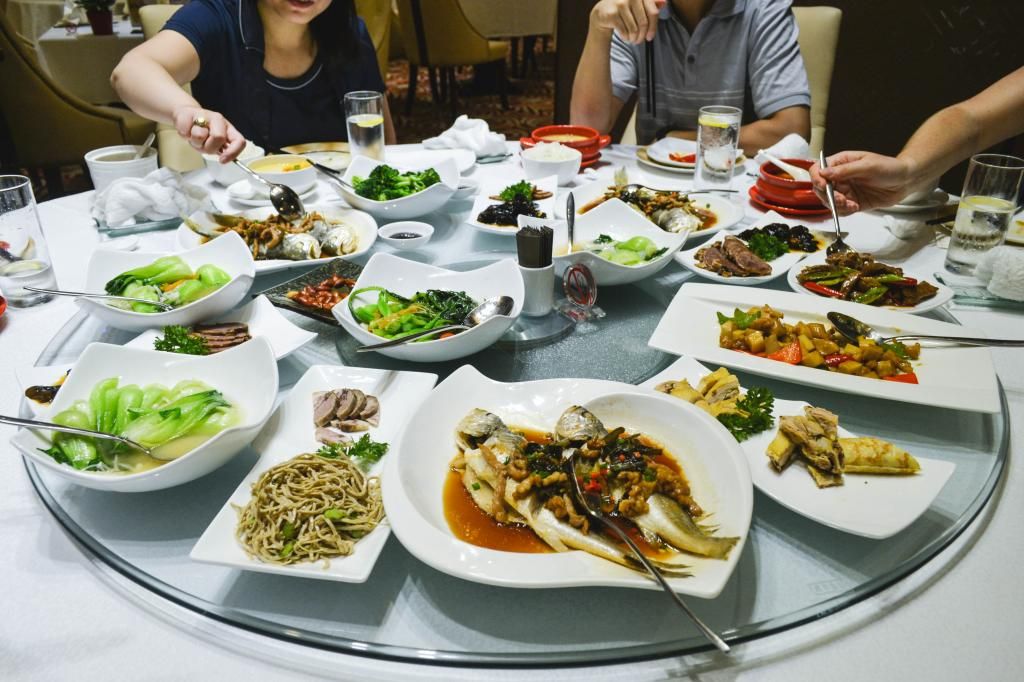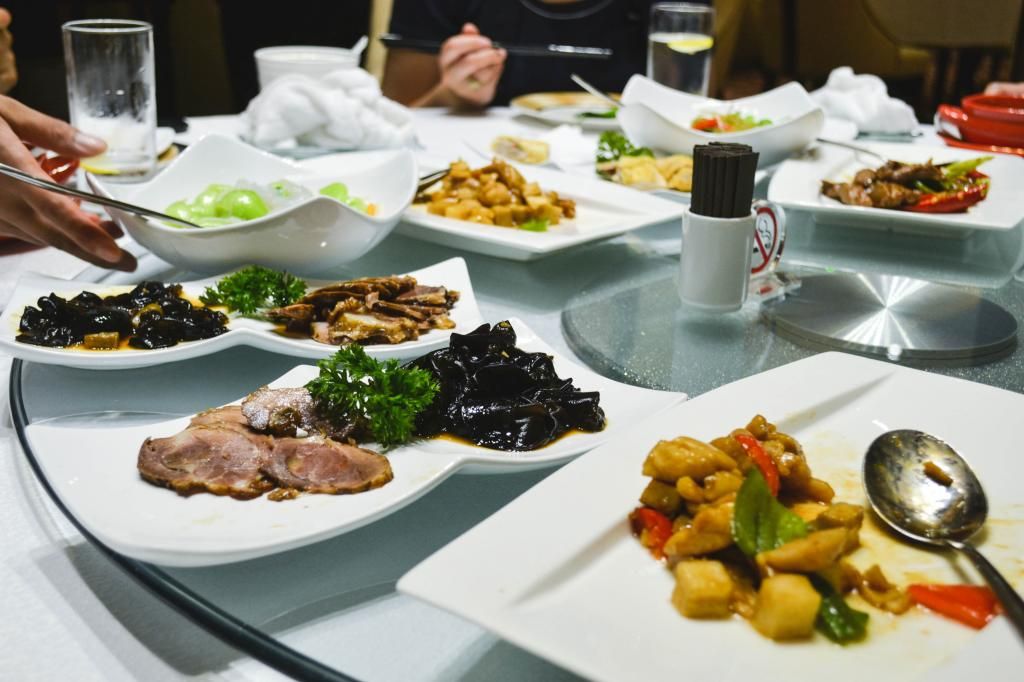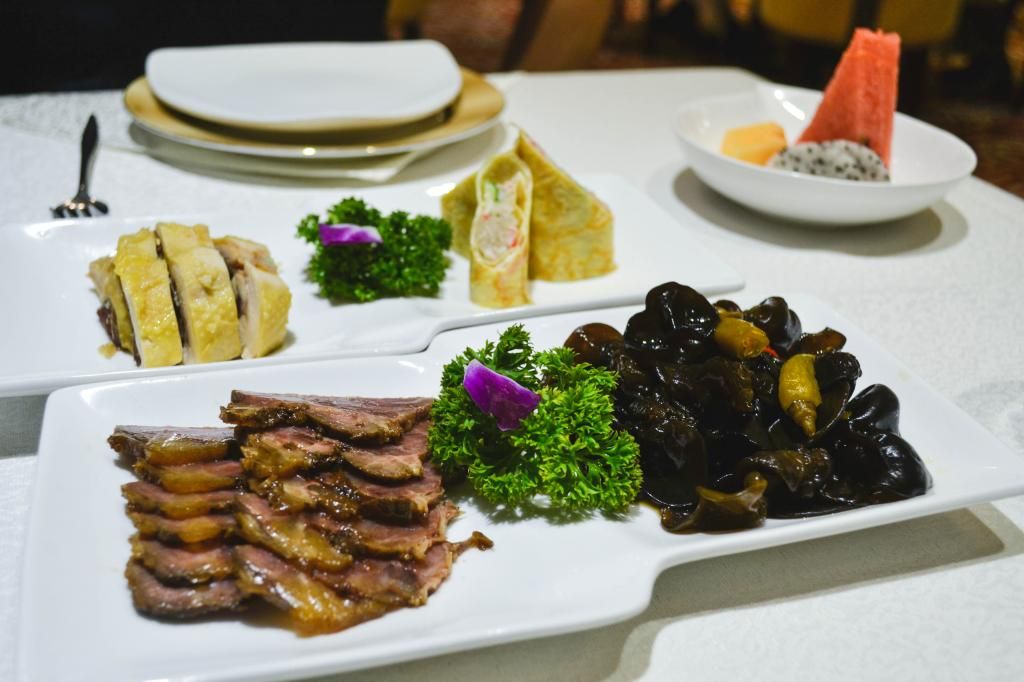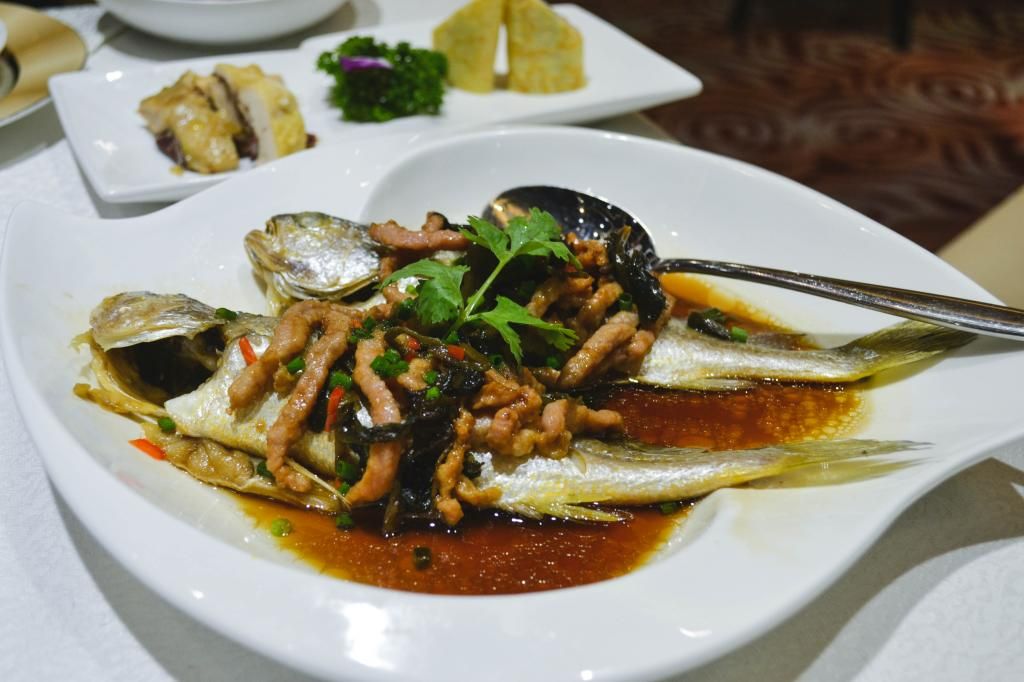 Regional/Local - 东来顺 (DongLaiShun)
Presenting Beijing's premier hot pot restaurant!
Hot pot is always a dangerous option for me, especially when everyone gets a personal pot of boiled goodness (and in pretty copper pots over white-hot charcoal). Unlimited cuts of beef and lamb, seafood (lots and lotsa fish balls), cellophane noodles, mushrooms, and napa cabbage are often recurring floaters in my hot pot dinners.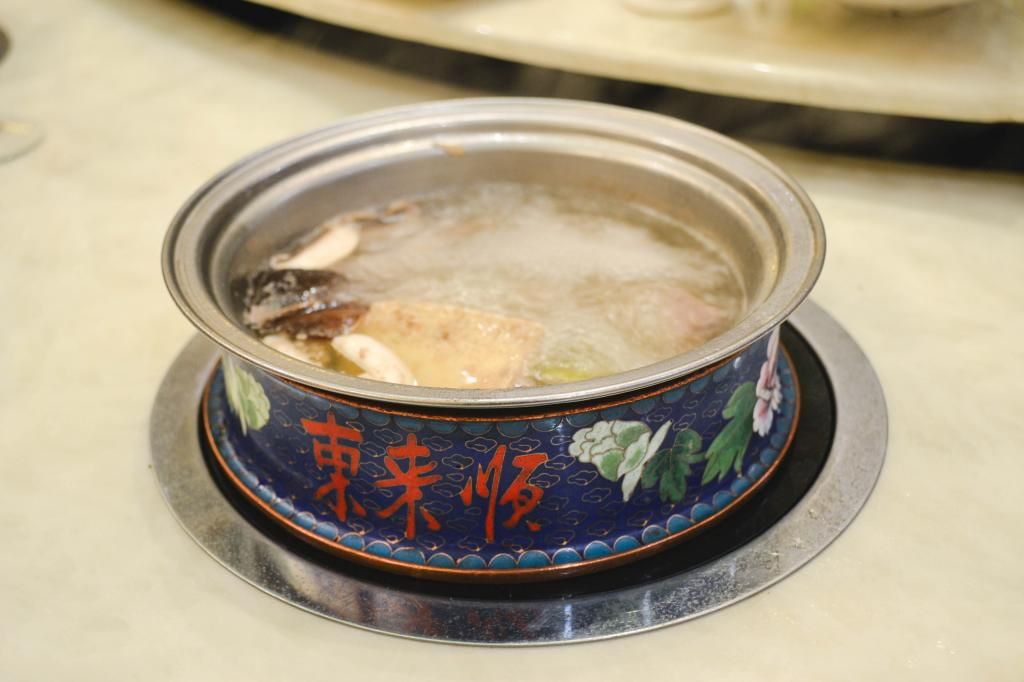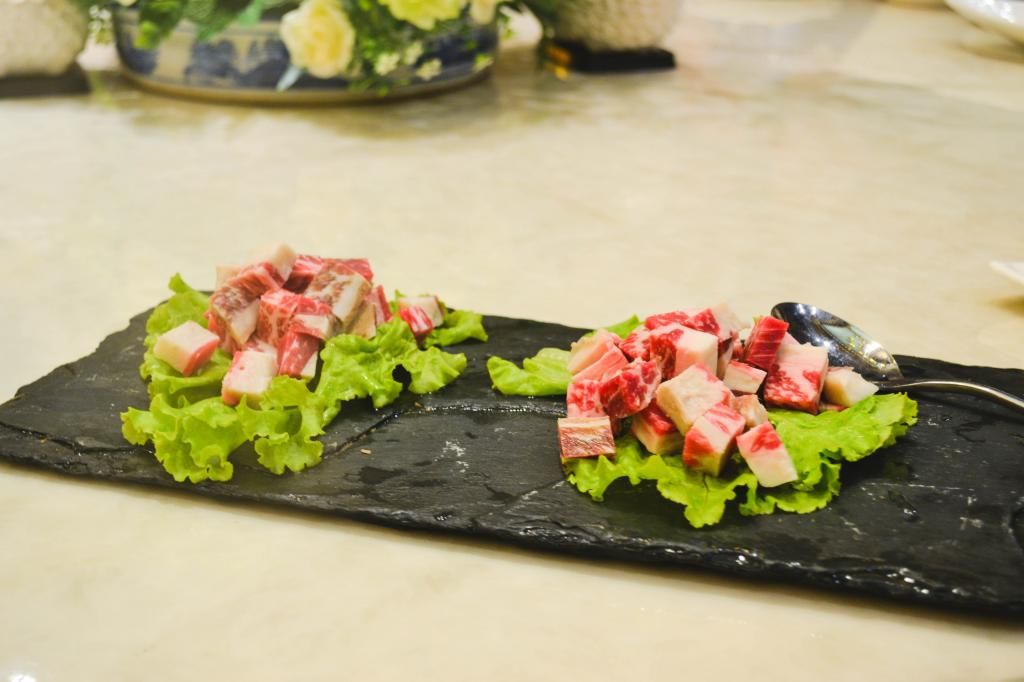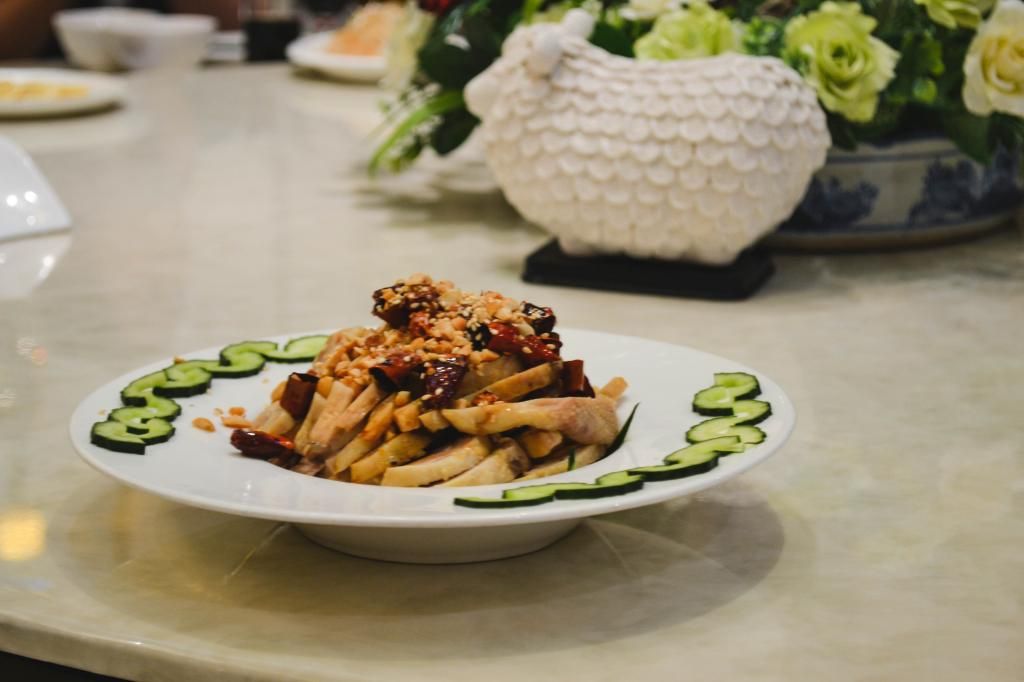 National - 真功夫 (Zhen Kungfu, fast food chain and yes that's Bruce Lee on the logo)
I love my Mickey D's but I also love, love, love my Chinese fast food.
After two extravagant dinners, this was a perfect airport breakfast to round out our time in Beijing. Hot, tummy soothing congee/porridge and steamed buns
carbs and carbs
- there's really not much more I could ask for. Next stop, 扬州 (Yangzhou)!